Scroll down for version in English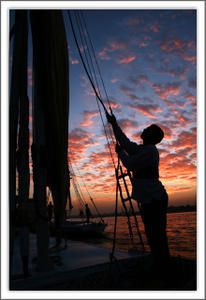 1er jour
……Arrivée à Assouan. Accueil à la gare ou a l'aéroport et Installation à l'hôtel.
Début des visites : le temple de PHILAE, l'obélisque inachevé, le Haut-Barrage. Nuit a l'hôtel.
Vous pouvez ajouter un jour pour visiter le célébre temple d'Abou Simbel
2eme jour
………….Installation sur la

felouque pour la croisière. Balade

à l' île Kitchener

et au monastère
st Siméon dans le désert, ensuite navigation.
Repas (midi et soir) et nuit sur la felouque.
3eme jour
…….Navigation toute la journée, des arrêts sur la rive sont prévus pour les repas et les
toilettes. Nuit sur la felouque.
4eme jour
…….Débarquement et visite du temple de KOM OMBO (en option). Transfert en minibus pour
Edfou.

Visite du temple (en option) et transfert à Louxor.
Vous pouvez continuer votre séjour :
- A Louxor. Visite des temples de Karnak et Louxor au coucher du soleil.
Option en soirée : son et lumière à Karnak.
5eme jour
…….Départ en voiture pour la

visite de la

vallée des rois, des artisans, du temple de
Hatchepsout.
La felouque est un bon moyen de transport

paisible pour profiter du Nil. La chanson du vent dans la voile,
l'envol des aigrettes nuptiales, le calme et la gentillesse de votre capitaine vous donneront des moments
intenses et inoubliables.
Cependant, il faut savoir qu'il n'y a pas tout le confort sur la felouque. La nuit se fait sur le pont (Nous
fournissons le matelas et une couverture mais c'est bien d'avoir vos sacs de couchage). Les toilettes se
font sur la rive.
Les repas préparés par votre capitaine nubien sont simples mais delicieux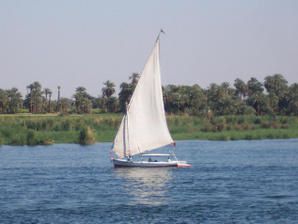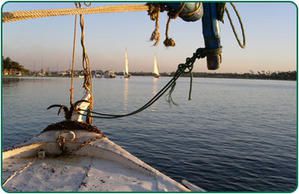 .
____________________________________________
day
.....Arrival in Aswan. Pick up at the airport or train station and setting you up at the
hotel
Start of visits: the PHILAE temple, the unfinished obelisk, the high dam. Night at the hotel.
You can add one day to visit the famous ABOU SIMBEL temple.
2
nd
day
… Starting on the Felucca for the cruise. Trip to Kitchener Island and to St Simeon
Monastery in the desert
Midday and evening meal on the Felucca, Night on the Felucca.
3
rd
day
... Cruising the Nile all day, stops on the shore for meals and going to the toilets. Night on
the Felucca
4
th
day
... Off the Felucca and visit of KOM OMBO temple. Transfer to Edfu. Optional visit of the
Edfu temple and transfer by convoy to Louxor.

You can continue your trip by:
in Louxor at night and visit Karnak and Louxor temples at sunset. Optional evening of the light and sound show in Karnak and continue the next day to see the Valley of kings, Hatchepsout temple...

The Felucca is a good and quiet transport to enjoy the Nile. The meals prepared by your Nubian capitan are simple but very tasty and his good humour and enjoyable character will make this trip a memorable one.
However don't forget that you are not on a 5 star boat, you sleep on the deck (mattress and blankets provided, you can bring your own sleeping bag) and you go to the toilets on the shore.