Ci-dessous la présentation des 2 associations pour lesquelles l'hôtel Osiris aide a collecter des choses grâce a vous tous qui apportez dans vos valises, vetements, jouets...

Underneath is the presentation of the 2 associations for which Osiris hotel helps collect items, thanks to all of you who bring in your bags, clothes, toys...
_________________________________________________
1) ESMA, la SPA du caire/ ESMA the animal rescuers

Yuki, le petit chien sauvé des rues est maintenant mascotte de l'hôtel Osiris. Voici une association formidable qui aide les animaux en grande souffrance en Egypte
Le lien pour visiter leur page internet:
http://www.esmaegypt.org/

il y a une liste de petites choses que vous pouvez apporter pour les aider (linges, laisses, couvertures, savons, gants chirurgicaux....) dans la page suivante:
http://www.esmaegypt.org/How_you_can_help.html

Yuki, our small dog rescued for the streets and now the mascot of the Osiris Hotel wants our guests to know about a fantastic association that helps to rescue animals in egypt

here is their webpage and underneath the "how you can help page with a list of things you can take in your bags when coming to the hotel and we ll be happy to take it to the association
http://www.esmaegypt.org/
http://www.esmaegypt.org/How_you_can_help.html

____________________________________________________________

2) LES Chiffonniers du Caire/ a charity for families in need

L'hôtel Osiris aide les chiffonniers du Caire et en particulier les associations "les amis d'Ezbet El-Nakhl" et "Caire Coeur" a collecter des vêtements, des jouets et des dons pour des projets plus importants (comme un dispensaire des écoles) qui sont réalisés par Caire Coeur
si vous avez de la place dans vos valises et des affaires inutiles, n'hésitez pas a les apporter avec vous, elles seront distribuées directement aux familles qui en ont besoin

Osiris Hotel helps a non profit organisation to collect clothes, toys...
If you have spare room in your bags and things you don't need in your closets, don't hesitate to bring it along, it will be distributed directly to the families who need it


Nabil et Josiane, de l'hôtel Osiris rejoignent les membres des associations pour donner les vêtements et jouets recus de nos clients.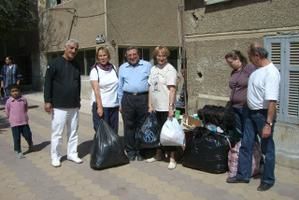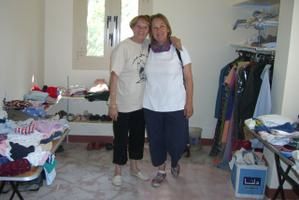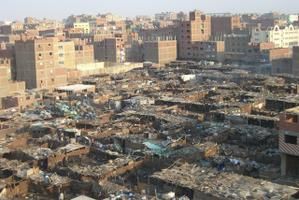 le quartier des chiffonniers